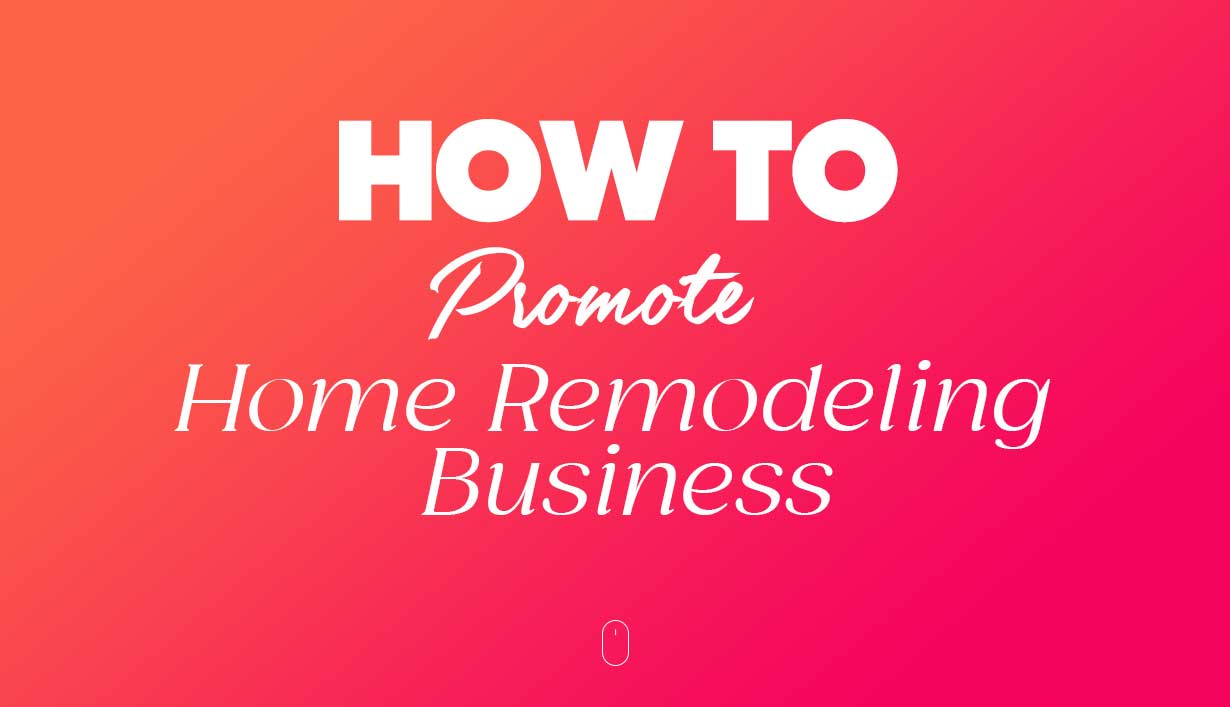 Need Help?

Tell us about your project!
T  Today I have some simple solutions to promote your home remodeling business to your target customers. In the United States, roughly 650,000 remodelers are self-employed. The market size is around 374.6 billion in 2018 and will exhibit a 4.5% CAGR by 2026.
So, in this competitive field, you have to represent your company as a market leader.
You need a proper and a strong marketing strategy to dominate the city/location your company belongs from.
I have collected some questions to answer:
➜ Where can I advertise my home improvement business?
➜ How do I generate leads for home improvements?
➜ How do you market a renovation company?
➜ How do clients get renovations?
➜ How to promote my home remodeling business?
➜ How To drive traffic to home remodeling website
So, I have the solution for all of these questions you are asking though.
Before diving deeper, I would love to show you something great.
According to hubspot, 88% consumers use local search and around 46% people seek local information or their daily needs though.
Is local search paid ? No!
So, this is the game, you can still target these 46% people to drive your company.
Yeah, I know all of them are not looking for a home remodeling service, but anyhow a lot of potential clients there probably searching for "home remodeling near me"
How do I generate leads for Home Remodeling Business?
Using Local Search: As I explained above, there is a lot of potential in local search. You just have to target in order to convert them as your customer. So, first of all, create a website and list all of your renovation services there.
When you create a website make sure you're using a fast hosting server.Now optimize your website pages, titles, contents, tags, etc. Make sure you optimized the website properly.
17 tips How To Improve Google Local Business Ranking
Now list your business on google my business and claim your website in it. Make sure all the options you filled up properly. I have a checklist that would help you to full fill your local SEO.
Now:
➜ Research some local intent keywords
➜ Create regular posts on your GMB
➜ Upload photos
➜ List your business with gmb url on the local directories
➜ Add a blog section in your website
➜ Add map on your website and with blog posts you create
➜ Create citations with 100% Nap consistency
➜ Create some brand profiles
➜ Focus your target keywords with all of the content you're creating
➜ Keep monitoring
➜ If you need professional help to optimize your google my business profile and website,
you can use our monthly local seo service.
I wanted to show you something more to promote your home remodeling company
Video: Video, actually I mean YouTube. Yeah, as we all know YouTube is the second largest search engine. Don't afraid, you don't have to spend a lot of time there. You can still just create a few minutes or even 30 seconds video and upload that to your gmb, youtube channel, and other social platforms as well.
Go live daily or weekly basis, as long as just keep it as regular.
Instagram: According to Statista there are 500 million daily active users and around 1 billion users using Instagram monthly. As of 2020, there were 112 million active monthly users from the United States.
So, as you can see in the screenshot, a lot of business owner sharing their business photos in the Instagram. If you still not promoting your home remodeling business on the Instagram, you're missing a lot of customers.
I highly recommend, create a business profile and start sharing photos and information about your remodeling business.
Because, Instagram is designed to share visual content. You have to take the full advantage of it.
Facebook: There are currently 221.6 million users active on Facebook in the United States. Facebook is the giant place to target any kind of audience nowadays. Everyone is using Facebook and people are so active in the platform though.
Though there are a lot of groups to narrow down the audience, it's an extra advantage to target them. All of the people are from the same industry.
I just searched on Facebook: (home remodeling)
Isnt is easy to connect with them?
Yeah, it's really easy to get them. So, create a business page and optimize the page properly. After that connect with these highly targeted audiences and share knowledge with them. People will ultimately start visiting your website through your Facebook page and you will get some potential deals from here.
Pinterest: And according to backlinko "Pinterest has 459 million monthly active users worldwide, including 98 million in the US. 35% of Americans use Pinterest. Pinterest generated $1.69 billion in annual revenue in 2020. That's an increase of 48.27% over the previous year."
85% of users have bought something based on Pins they see from brands. Pinterest designed to share visual content. So as a home remodeling business owner, you can still take advantage of there.
Share photos regular and grow the business profile. Also, ad cost in Pinterest is super affordable.
So, there are a lot more places to represent your home remodeling business to your target audience.
How To Promote Home Remodeling Business Easily?
I know its easy to get confused in a lot of information. I wanted to make it easy for you though.
Just follow these steps to make it super simple:
➜ Create a website and google my business profile
➜ Create Facebook business page
➜ Create Instagram and Pinterest profile
➜ Create Youtube Channel
If you already have the website and google my business profile, now If you pay $20 someone from fiverr they will create the social profiles all within 24 hours.
So, you have done everyhting.
Now you just have to continue with content creation and optimization regular basis.
Create a post under 100 words and capture an image, now you can use the same image and posts on all the platforms such as gmb profile, Facebook page, Instagram, Pinterest.
Dont have time ? Use this tool to schedule post for month or week.
Still if you need help, contact me personally with a 15 minute free consultation, I would love to help.
I think I have explained everything in very easy ways. Though its really super simple you just have to continue.
Currently we are managing 80+ clients a few of them home remodeling company. We applied these all items and getting results very interesting. So I shared everything I have done.